Andrew "Andy" Taggart Caress grew up in Glendale, Ohio, a small, closely-knit village just north of Cincinnati. Guided by his parents, and encouraged by his older sister, Courtney, and older brother, Robbie, he played every sport imaginable, and excelled at swimming and tennis. Andy volunteered every summer as a ball boy at the ATP tennis tournament in Mason, Ohio, and eventually became a hitting partner there with two of the women pros. As a senior at Princeton High School, Andy was a member of the 2003 Ohio State Championship tennis team, coached by his dad.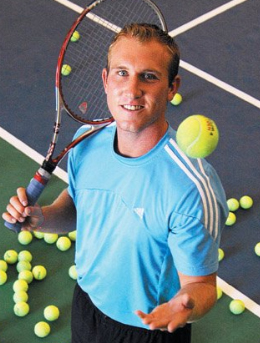 Andy was close to his family, including many aunts, uncles and cousins. He had a very special relationship with his grandfather, Harry, known to all of Andy's friends as "Grandpa", who was Andy's biggest (and loudest!) fan. The beaches and tennis courts of South Carolina called to Andy, and he traveled to Coastal Carolina University. He played four years of varsity tennis under the leadership of two inspiring coaches, and added his great teammates and college friends to his already large group of amazing friends from grade school, high school, and tennis. His European teammates provided an opportunity to travel to England, France and Spain. Andy graduated magna cum laude with a degree in history in the spring of 2007. He decided to travel again, this time to Colorado, accompanied by his beloved dog, Boomer.
Earlier ski trips to Colorado led to Andy applying for a job at the Tennis Center in Steamboat Springs, and he grabbed the opportunity to become a teaching pro there, with the ski slopes beckoning within walking distance! Andy was in his element in Colorado, and he took advantage of all it had to offer. Skiing, hiking, biking, canoeing, rafting, volleyball, softball, of course tennis, and making friends of all ages in the process. He and a roommate started a successful dodgeball league. Life was good. Andy finished near the top of his age group in a mini triathlon in August, 2008, with open lake swimming followed by biking and a run. He was in the best physical shape of his life – incredibly fit and strong!
In October, 2008, Andy became concerned about a mole on the back of his neck and went to a dermatologist. The biopsy indicated that the mole was melanoma, a disease that Andy and his family knew next to nothing about. Then Andy started on a 22 month journey to try to beat back "the Beast", as he called it. He started with surgeries to remove the mole and the lymph nodes in his neck in Cincinnati, then continued his treatment at MD Anderson Cancer Center in Houston. There he worked with an incredible medical team, headed by world renowned melanoma specialist, Dr. Patrick Hwu. Andy and his close friend started a web page, andycaress.org , where Andy chronicled his journey, and friends could send him messages. To date, there have been over 36,000 visitors to that site!
Andy bravely endured more surgeries on his neck, the insertion of a rod to strengthen his femur, countless rounds of radiation, and weeks upon weeks of debilitating bio-chemo therapy. He remained positive and confident that he would win his fight. He became friends with other young adults who were also battling melanoma, and referred to them and himself as "Melanoma Warriors."
For an all too brief period of time in the first four months of 2010, Andy's body responded miraculously to a new drug. With help from Denver friends, he moved into an apartment there, started working, and resumed his tennis, biking, hiking,skiing, working out and volleyball. But by the end of April, melanoma returned with a vengeance. Rather than being devastated, Andy summoned his courageous spirit and fought back. While in Houston for brain radiation throughout the month of May, he started a 501(C)3, Mela-KNOW-More, later known as the Andy Caress Melanoma Foundation, and launched its website. He vowed to spread awareness and to advocate prevention. One of his proudest moments was in June, 2010, when he presented a check from his organization to Dr. Hwu for melanoma research.
During his battle, Andy realized that this disease is often misunderstood by the public as an "easy" or "lucky" cancer to get. His will was to change this misconception and his mission was simple:
"My goal is that melanoma will never impact any person the way it has impacted me, and I will achieve my goal by educating the world about how melanoma may be prevented and identified."
Sadly, Andy Caress lost his battle with melanoma on Aug. 4, 2010, just 8 days before his 25th birthday. To honor Andy's legacy, Melanoma Know More will continue to support his goals as well as focus on the mission of Melanoma Know More.
Andy's Goals:
1. Create awareness about the seriousness of melanoma and that it affects all skin tones and races
2. Educate the public about steps that can be taken to prevent melanoma
3. Increase opportunities for a cure for this deadly disease through work with leading melanoma and cancer research organizations
4. "Wipe melanoma off the face of the planet" – in Andy's words
To learn about Andy's journey with melanoma, click here.