May is Melanoma Awareness Month, which is a time to increase public awareness about melanoma.  This includes increasing our community's understanding of its prevalence, the importance of skin checks and early detection, treatment options, and more.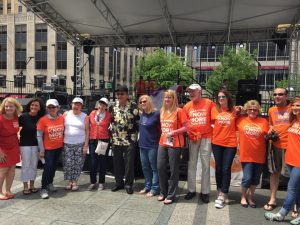 SAVE THE DATE!
Melanoma Awareness Day on Fountain Square
Downtown Cincinnati
May 17, 2017
11:00am-1:00pm
If you would like to be a vendor at the 2017 Melanoma Awareness Day on Fountain Square, please click here for more details and contact Leanne Blair at leanne@melanomaknowmore.com.
Melanoma Awareness Day on Fountain Square features various informational booths manned by local hospitals, organizations, etc. to educate the community about the importance of sun-safety, skin cancer awareness and prevention, and more.  The event will also feature a local band, Room for Zero, and a brief program highlighting local area melanoma warriors.
Melanoma Awareness Month is a national call to action to raise awareness about melanoma in May, but that should not stop the continual discussion of melanoma.  It should be ongoing.  Encourage your friends to get their skin checked, wear sunscreen, sign the No Tanning Promise, educate a friend, and stay in tune to your skin.
Connect with Melanoma Know More on Facebook and Twitter to get daily melanoma updates during the month of May.