When Melanomas are diagnosed in their earliest stage – confined within the top layer of skin – there is a successful cure rate. Therefore, the key to treating melanoma is recognizing it early. In addition to monthly self-exams, it is also recommended that you get a yearly body check from a dermatologist.  Consider attending a Melanoma Know More FREE Skin Cancer Screening Clinic, which are typically held the second Saturday of every month from 10am – noon at one of our five hospital partner locations.

Possible Signs of Melanoma:
A new pigmented (colored) spot
A change in the appearance of a pre-existing mole or pigmented area. A mole that:

changes in size
changes in shape or contour
changes in color (there may be more than one color)
changes in character (itching, oozing, bleeding, open area)

Satellite moles – new moles that grow near an existing mole
When conducting self-evaluations, the ABCD system may help you remember features that might be a symptom of melanoma.
ABCDE's of Melanoma:
Asymmetry: One half of the abnormal area is different from the other half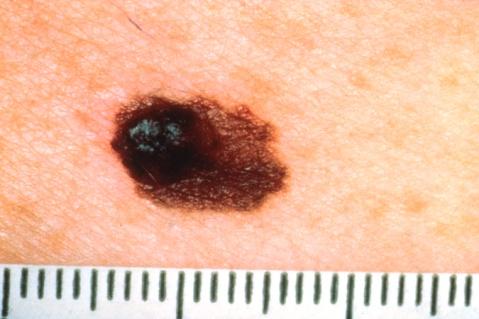 Borders: The lesion or growth has irregular edges.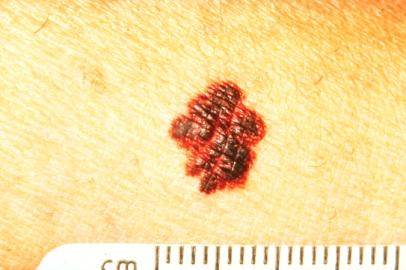 Color: Color is varied from one area to another, with shades of tan, brown, or black (sometimes white, red, or blue). A mixture of colors may appear within one lesion.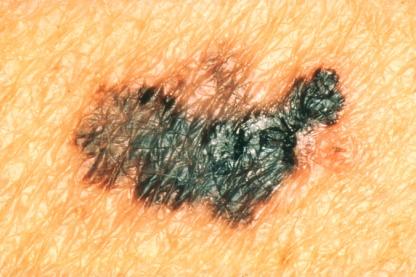 Diameter: The trouble spot is usually (but not always) larger than 6 mm in diameter — about the size of a pencil eraser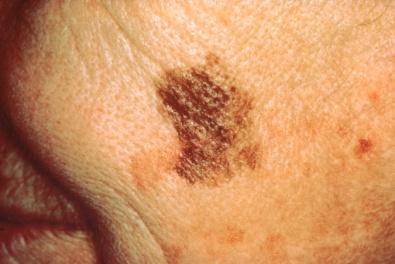 Evolving: The skin lesion that looks different from the rest and is changing is size, shape or color.
If you are facing a delay in seeing a Dermatologist:
Schedule an appointment at a Melanoma Know More FREE Skin Cancer Screening Clinic, which are held on a monthly basis
Tell the receptionist at your dermatologist that you are concerned about possible melanoma and that you need to be seen quickly
Be available to make an appointment anytime you can be fit into the schedule
You should know that not only dermatologists, but also general or plastic surgeons are trained in safe removal of moles and early melanomas from the skin
Try a hospital's pigmented lesion clinic, melanoma center, or dermatology department in which you can make an appointment with a dermatologist without a referral
Some hospitals offer Mole Exam Days frequently, where anyone can be examined. These are not walk-in clinics; you must call in advance, but if you let them know you have a lesion that is changing or looks like a melanoma they will do their best to schedule you quickly. All patients are accepted regardless of financial circumstances and, although services are not free, suitable payment terms can usually be arranged. Contact your local hospitals dermatology departments directly or the American Academy of Dermatology (888-462-3376) for information about this possible avenue.
Don't take no for an answer;

be your own advocate!
Lists of local area Dermatologists in Cincinnati and Northern Kentucky:
Click here to view the Cincinnati list
Click here to view the Northern Kentucky list