Melanoma Know More - Education, Awareness, Prevention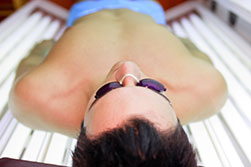 NO TANNING PROMISE
Sign Melanoma Know More's No Tanning Promise, it may save your life! Sign Here...

TESTIMONIALS
"In January 2014, I saw on a local newscast that Melanoma Know More was performing a skin cancer screenings. I was screened by one of their volunteer Dermatologists and was told I had a couple of suspect growths. About 2 weeks later, I was examined by my Dermatologist and had a biopsy taken, which resulted in melanoma located on my upper back. This was my second experience with melanoma and it was successfully removed.

The service Melanoma Know More provides is something everyone should consider if they have never been screened. I am very grateful for their service."

Larry W.
Melanoma Know More's New Public Service Announcements
Check out Melanoma Know More's new Public Service Announcements, which are airing throughout June, July and November on WLWT in Cincinnati, Ohio. Check Them Out