Welcome to Melanoma Know More's Warrior Stories page. Here you can find all the stories from the Melanoma Warriors who have submitted their stories to MKM. Want to share your story? Visit our Share Your Warrior Story page to share your own story.
Meet Kayla
9 years ago my daughter was born with a congenital melanocytic nevus on her scalp. Her pediatrician assured me there was nothing wrong with her that it was just a birthmark and that it won't have hair grow in that spot. For the longest time she was bald on that spot and many people asked what it was. I told them the same thing the doctors said to me " it's just a birthmark." Fast forward a couple years, and I took her back to the pediatrician because she had hair growing on that spot. Now what!? Her doctor said it was nothing to worry about other than the fact that the hair on the spot would be a different color from the rest of her hair, but that never happened. Her hair is the same color all the way around, so I just thought maybe the doctor was right about there being nothing to worry about.
In January of 2015, a HUGE bump formed on her nevus. Soon after, she had surgery and had the bump removed on February 20th. I thought it was over and thought we had nothing to worry about. Her plastic surgeon called on February 23rd and informed me that the bump was melanoma. Since then, she has had another surgery to remove around where the bump was.
Soon she will began the reconstructive surgery to remove the remaining nevus and to stretch her skin with balloon implants to take the stretched skin and cover the spot where her nevus is. As of right now, she just has a bald spot due to the thin skin on her scalp.
Even though my daughter's melanoma is not related to the sun or a tanning bed, she still has to practice sun-safety since she has had melanoma and she has a higher chance of it returning.
Meet Mark
I felt a lump in my  neck, had it checked immediately, and then biopsied. I discovered I had metastatic melanoma in my lungs, esophagus, and chest. There were 14 tumors in all. I did HDIL2 for 47 doses over 5 months. I had a minor re-occurrence in December of 2008. I had 50 nodes removed and 25 rounds radiation. I've been NED since January of 2009!
Meet Lisa
On February 2, 2014, a biopsy result came back with the words "vaginal melanoma".. which right there tells you that I'm special (9 out of 100 people are diagnosed with this type of melanoma).  My oncologist sees 1 or 2 cases of this every year.  My melanoma surgeon said "this is unique".
During the past two years, I've been fortunate enough to be involved with and be on the board of Melanoma Know More.  I had no prior family history, no connection other than I was amazed and inspired by the people at MKM and the work they do….then I got melanoma!
I have been scanned numerous times, had surgery to remove the melanoma and numerous lymph nodes.  There were small traces of cancer in my lymph nodes; therefore, I have been undergoing immunotherapy – interferon and will continue to do so for an entire year.
Feel free to follow my story via my CaringBridge site.  Thank you for your interest in my story and Melanoma Know More.
Meet Larry
My melanoma story begins in the mid 1960s. My summers consisted of outside activities, never wearing a shirt or applying any kind of sun protection to my skin. Multiple sunburns then resulted in skin cancer 40 years later.
After having been diagnosed and cured (surgically removed from my upper back) of Stage 2 melanoma in November 2008, my awareness and vigilance increased. In January 2014, I saw on a local newscast that Melanoma Know More was performing skin cancer screenings at Bethesda North Medical Center outside of Cincinnati. I was screened by one of their volunteer Dermatologists and was told I had a couple of suspect growths. About 2 weeks later, I was examined by my Dermatologist and had a biopsy taken, which resulted in another melanoma, again located on my upper back (opposite side). As before, this cancer was successfully removed. I encourage everyone to take time out of their lives to be screened, and when outside, apply sunscreen and cover open skin as appropriate.
The service Melanoma Know More provides is something everyone should consider if they have never been screened. I am very grateful for their service.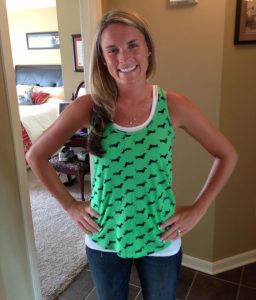 Meet Jessica
Jessica had been seeing the dermatologist for years, and had numerous spots removed and biopsied over the years that all came back normal. In May of 2014 she went in for a normal, routine check-up and had two more spots removed. She didn't think too much about it as the doctor didn't seem too concerned by the look of either one. A week later she got the call, the dreaded "can you hold for the doctor" type of call. He told me Jessica she had Melanoma; she was only 30 years old.
She had surgery at the beginning of June to remove the melanoma and lymph nodes for biopsy. She had more surgery at the end of June for another spot that wasn't quite Melanoma, but headed in that direction.
She am happy to report that the lymph node biopsy came back clean, although now she spends her time visiting the dermatologist (about 3x a year) and Dr. Leming, one of Melanoma Know More's founding board members, for regular check-ups.
To celebrate her clean bill of health, Jessica completed the NYC Marathon in November – 5 months after the successful surgery to remove the melanoma.  She will also participate in the 2015 Flying Pig Marathon as a member of Team Melanoma Know More.
Meet Arch
I was diagnosed on 7-24-12, and then had surgery in August.  It was stage 4 ulcerated melanoma with no involvement in my lymph system. I was treated with interferon (Sylatron) for a year starting 9-14-2012 and lasting till 9-9-2013.
Throughout this ordeal I received so much support from family, friends, church, doctors and even the government. I know it sounds crazy, but I was truly blessed throughout my year of interferon treatments.
So, I want to find a way to bless all that have blessed me. I think I can do that best by joining and fundraising for Melanoma Know More (MKM). MKM's free monthly skin screenings can catch cancer early and save people and their loved ones from going through what my family went through, or worse.
Prior to my diagnosis, I was an avid cyclist and hiker. During that year of cancer treatment, all I did was search the web for backpacking tips, biking tips and the like. I followed my friend's blog during his 6 month Appalachian Trail journey. I couldn't wait until I was well enough to be out cycling and hiking again.
While browsing the web, I came across info on the Buckeye Trial, describing the 1444 mi trail throughout Ohio. I think these backroads, hiking trails, bike paths and canal tow paths, would be good for a bike, hike, canoe trip fundraiser for MKM's Team Melanoma Know More.
As a result, on April 6, 2014, I started my adventure along the Buckeye Trail and committed to raising funds to support the mission of Melanoma Know More!  Please visit my blog, Buckeye Trail for Melanoma Know More to learn more about my experience!
Donations in support of this fundraiser can best be sent directly to Melanoma Know More, by clicking here.