Melanoma Know More Presents Research Award to a local researcher at the University of Cincinnati that will extend to 2016

Melanoma Know More is pleased to announce that it has presented Dr. Zalfa Abdel-Malek and her laboratory at the University of Cincinnati with a $25,000 award towards their research in to the understanding of the regulation of human pigmentation and the response of human melanocytes to ultraviolet radiation (UVR), the major causative factor for skin cancers including melanoma.  The award was originally supposed to be for $20,000 for 2014; however, a very generous supporter and former board member, Dick Haglage, donated an additional $5,000 in honor of one of Melanoma Know More's board member and melanoma warrior, Steve Hazlebeck.  Melanoma Know More has also decided to extend the award for two additional years (2015-2016) for $20,000 per year.  Congratulations, Dr. Abdel-Malek and her team at the University of Cincinnati!
---
Message from Dr. Abdel-Malek pertaining to her research and experience: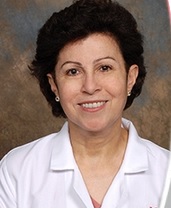 I joined the Department of Dermatology at the University in Cincinnati in 1985, shortly after graduating with a PhD degree in General Biology from the University of Arizona. After two years of postdoctoral training, I joined the faculty and now I am tenured Professor in Dermatology with a joint appointment in the Department of Cancer and Cell Biology. I am a member of the Cincinnati Cancer Center and the Center for Environmental Genetics.
For the past two decades, my research has mainly focused on investigating the role of the melanocortin 1 receptor (MC1R) and  its activator, alpha-melanocyte stimulating hormone (MSH), in human pigmentation and protection from solar ultraviolet radiation. I began this area of investigation at a time when the role of MC1R and MSH in human pigmentation was disputed, despite the fact that MSH is known to be the main regulator of pigmentation in many species, from fish, to frogs, lizards and snakes, as well as mice. My laboratory discovered that human pigment cells, melanocytes) in the skin express MC1R and respond to MSH with increased pigmentation. A major discovery from my laboratory is that activation of MC1R increased the capacity of melanocytes to repair DNA damage caused by exposure to UV, and preserved the survival of these cells. We also discovered that certain heritable mutations in the MC1R gene that are strongly associated with red hair, fair skin, and poor tanning ability result in loss of function of MC1R and inability to be activated by MSH. These mutations compromise the DNA repair capacity of melanocytes and their ability to increase pigmentation when exposed to ultraviolet radiation (UV). Impaired ability to repair DNA is known to cause mutations, the underlying causes of cancers, including melanoma, the most fatal form of skin cancer that originates from melanocytes. This solidified the role of the MC1R gene as a melanoma susceptibility gene, and explained why individuals with red hair and poor tanning ability have increased risk for melanoma.
Based on the important role of MC1R and MSH in reducing the toxic and carcinogenic effects of UV on melanocytes, we have been developing a prevention strategy for melanoma based on using small analogs of MSH, comprised of 3 or 4 amino acid sequence contained in the chemical structure of MSH, with additional chemical modifications. After screening hundreds of these analogs, we have in hand some that are more potent and stable than MSH, selective for MC1R (which reduces any  non-specific side effects), and can penetrate human skin. Preclinical screening of these analogs on human skin and cultured human skin substitutres show that they can increase pigmentation without any UV exposure, and enhance repair of DNA damage, with no evidence of any toxicity. This project is multidisciplinary and involves many collaborators from different departments and colleges at the University of Cincinnati. My strategic goal is to develop our analogs as topical agents that can be applied to the skin prior to anticipated exposure to the sun, e.g. before a vacation to the beach, to activate the DNA repair capacity, and confer pigmentation (tanning) that reduces DNA damage caused by UV exposure.  This strategy promises to have a high impact on melanoma incidence, particularly in high risk individuals with known mutations associated with melanoma, such as p16, or harboring one mutation in the MC1R gene.
This project was started with a small grant from the Dean of the College of Medicine, then was supported by pilot projects from the Center for Environmental Genetics at UC. It was supported later by a 4-year award from the National Cancer Institute, and last year by Technology Commercialization Accelerator Award from UC. The recent award from Melanoma Know More will enable us to progress more rapidly with our preclinical studies on intact human skin and mouse models, and to advance faster towards a Phase I clinical trial.