MKM Awards UC Researcher with Grant to Study Melanoma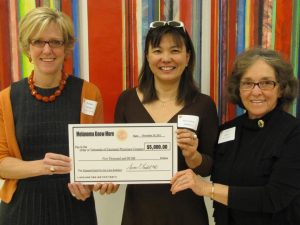 Melanoma Know More is pleased to announce that it has awarded Dr. Ana Luisa Kadekaro a $5,000 award toward her research on how melanocytes respond to ultraviolet radiation. The formal presentation will be made on November 30 at the Melanoma Know More annual meeting.
"We wanted to recognize a researcher in the Tri-state working to better understand how melanoma affects our community," said Lisa Russell, a MKM board member and chair of the Research Award Committee. "We chose Dr. Kadekaro because she is a rising star in the field of melanoma research working right here at the University of Cincinnati."
According to Dr. Kadekaro, sunlight is the major source of ultraviolet radiation and the most important environmental factor for melanoma development. Ultraviolet induced reactive oxygen species is an important player in the malignant transformation of human melanocytes.
Her research focus is on dissecting the complex antioxidant network involved in the protection of melanocytes in response to ultraviolet radiation. Dr. Kadekaro's long-term goal is to find molecular targets that could be used in new strategies to diminish the harmful effects of ultraviolet radiation, particularly targeting individuals genetically vulnerable to oxidative stress and skin cancer.
Learn More:
To learn about Melanoma Know More's annual research grant, please contact Leanne Blair at 513.364.6653 or leanne@melanomaknowmore.com.