Lisa K.
Stage 3 Melanoma Warrior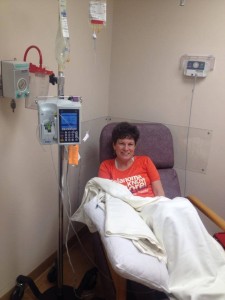 On February 2, 2014, a biopsy result came back with the words "vaginal melanoma".. which right there tells you that I'm special (9 out of 100 people are diagnosed with this type of melanoma).  My oncologist sees 1 or 2 cases of this every year.  My melanoma surgeon said "this is unique".
During the past two years, I've been fortunate enough to be involved with and be on the board of Melanoma Know More.  I had no prior family history, no connection other than I was amazed and inspired by the people at MKM and the work they do….then I got melanoma!
I have been scanned numerous times, had surgery to remove the melanoma and numerous lymph nodes.  There were small traces of cancer in my lymph nodes; therefore, I have been undergoing immunotherapy – interferon and will continue to do so for an entire year.
Feel free to follow my story via my CaringBridge site.  Thank you for your interest in my story and Melanoma Know More.