2020 Free Skin Cancer Screening Clinics
COVID-19 UPDATE: As a result of COVID-19 and its impact on our healthcare systems, Melanoma Know More has indefinitely canceled our screening clinics that are regularly held at hospital locations.  We are hoping to resume these in 2021. In the interim, we are excited to announce that we have another opportunity to schedule an appointment for a FREE skin cancer screening.  
Each Wednesday afternoon, from 1:30 – 3:30pm, we will be partnering with Dr. Brett Coldiron and Dr. Brian Bishop at The Skin Cancer Center to offer FREE skin cancer screening appointments in their office at 3024 Burnet Avenue, Cincinnati, OH 45219. You must have an appointment as walk-in's will not be accepted. Masks or face coverings will be required. To schedule an appointment, please call The Skin Cancer Center at 513.221.2828.
Please keep in mind that this is for a screening only. If further testing or treatment is recommended, you will need to follow up with a dermatologist. If you do have an urgent need to see a dermatologist for a worrisome mole or lesion, please click here to find a dermatology provider that is accepting new patients and can schedule you within a 2-3 week time frame.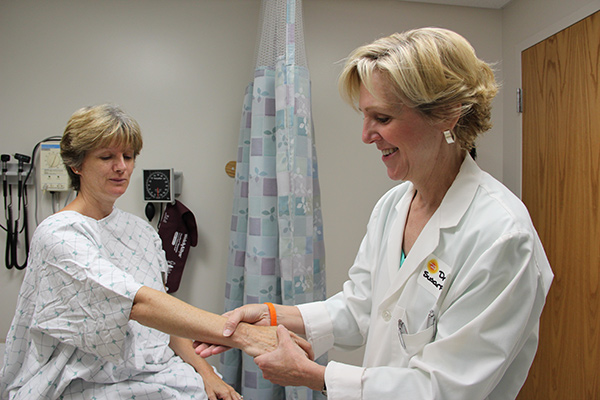 Melanoma Know More began hosting free skin cancer screening clinics in 2010. We have since screened well over 7,500 people, provided over 2,500 patients referrals for suspected melanoma and/or other issues. There have been 29 confirmed cases of melanoma that were discovered as a result of our clinics.
We recommend that individuals get their skin checked annually by a dermatologist and perform a monthly self-check. To learn how to do a monthly self-check, please click here. If you spot something that looks questionable, make an appointment to attend one of our clinics for a free skin-check or click here to locate a dermatologist near you. Remember to always pay attention to the ABCDE's of melanoma!
Our clinics would not be feasible without the support from our amazing volunteers! If you are interested in volunteering at an upcoming clinic, please click here. If you are a dermatologist and interested in volunteering, please click here to sign up.
To download a hard copy of the 2020 clinic schedule, click here.
Click on the following links to view a listing of dermatologists in Greater Cincinnati and Northern Kentucky.
Check out our ad in the January 2020 Top Doctors edition of Cincinnati Magazine by clicking here. Thank you to all the dermatologists, RN's, CNP's, PA's, and volunteers who help make our clinics a success.
No upcoming screenings.
Powered by Events Manager